Vaccination must be scaled up in Ebola-affected countries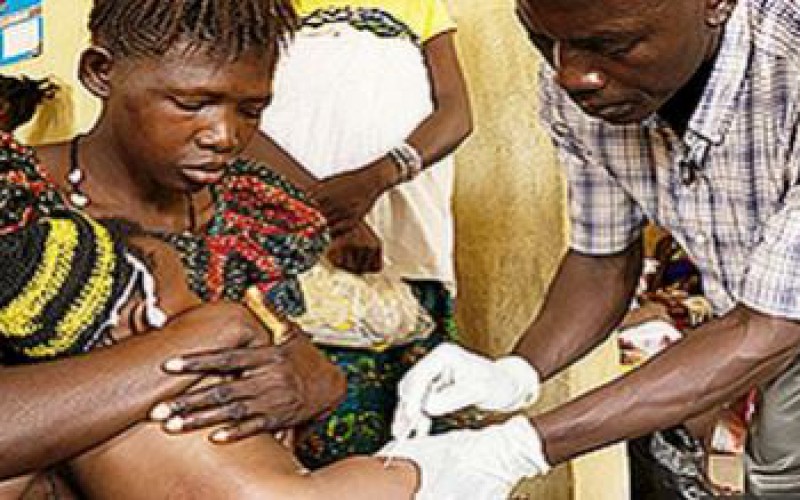 A growing risk of outbreaks of measles, pertussis, and other vaccine-preventable diseases in countries affected by Ebola must be countered by urgent scaling up of routine immunization activities, according to the World Health Organization (WHO).
"We are calling for the intensification of routine immunization services in all areas, and for mass measles vaccination campaigns in areas that are free of Ebola transmission," says Dr Jean-Marie Okwo-Bele, Director of Immunization, Vaccines and Biologicals at WHO.
The Ebola outbreak, which has infected some 24,000 people and killed around 10,000 of them, has also reduced vaccination coverage in Guinea, Liberia and Sierra Leone, as health facilities and staff focus on halting the outbreak.
"Any disruption of immunization services, even for short periods, will result in an increase in the number of susceptible individuals, and will increase the likelihood of vaccine-preventable disease outbreaks," according to a WHO note sent to countries this week. The new guidance for immunization programmes in the African Region in the context of Ebola to help countries maintain or restart immunization services includes infection control precautions for health workers. The document notes that for countries not affected by Ebola, routine immunization and surveillance "should continue using the normal safe injection and waste disposal practices."
Mass vaccination campaigns for measles in areas that are free of Ebola transmission should be implemented to reduce the risk of significant measles outbreaks, the guidance notes.
During the Ebola outbreak, people infected with malaria have been unable to get treatment, either because they have been too afraid to seek help at health centres or because such facilities have been closed.
To rapidly reduce the malaria burden and the number of febrile people with malaria presenting at Ebola evaluation facilities, WHO recommended mass drug administration (MDA) of anti-malarial medicines to all eligible people in areas heavily affected by Ebola. MDA campaigns with first line anti-malaria drugs were carried out in Sierra Leone and Liberia from October 2014 to January 2015, reaching an estimated 3 million people through door-to-door distribution, reducing malaria and the risk of Ebola transmission to malaria patients…
Read more in who.int