Yemen: Saudi continues its air strikes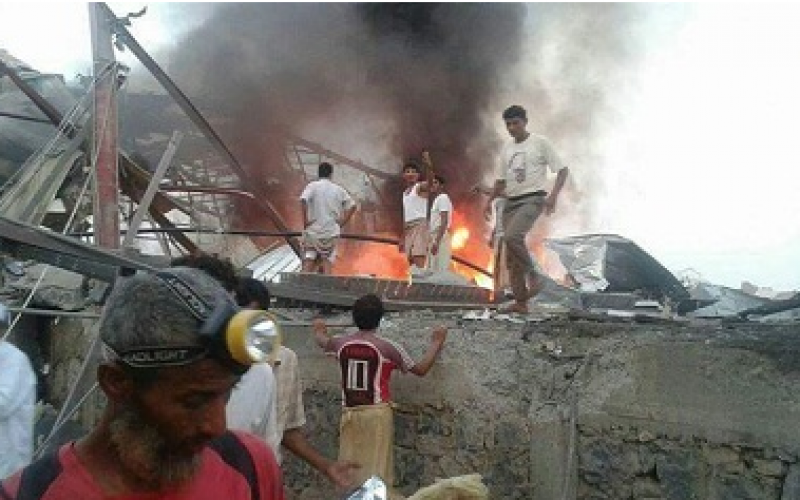 With the approach of the 6th month of the Saudi-American aggression against Yemen, Saudi continues its air strikes against Yemen.
A bottling plant was destroyed by a raid by the coalition led by Saudi Arabia in Yemen. A strike that killed 36 civilians. Several bodies were still buried under the rubble of the badly damaged factory, according to the Yemeni Khabar agency.
In the capital Sanaa, other offensives aimed at military targets also hit a residential area, killing at least four victims.
"The missile fell to 10.30 so we went out and we saw that it had targeted civilians. There was no Houthis there. They have targeted civilians, they were all civilians," said one witness.
In Aden, in the south, an official of the local security was killed in his car by a motorcycle gunman, a method which according to the authorities bear the mark of al Qaeda backed by Saudi Arabia.
At the humanitarian level, the situation is getting worse day by day. A hospital in the Yemeni capital Sanaa, which treats hundreds of children and pregnant women could be forced to close due to fuel shortages and medicines, said Monday the humanitarian organization, Save the Children.
"The situation is critical", said Halel Al Bahri, Al Sabeen hospital's deputy director, adding that "if the hospital closes, children and women will die," according to a statement released by Save the Children, supporting the establishment.
In its statement, Save the Children denounces this "fact blockade" that puts in difficulty the hospital Al Sabeen, threatened to "imminent closure".
Mr Al Bahri warned that in case of cessation of activity, "the number of people who die will be more important than those killed by bombs and fighting."
According to Save the Children, over 15 million people do not have normal access to basic medical care in Yemen, an increase of 40% compared to March.
In addition, more than half a million children suffer from severe malnutrition this year.
The coalition led by Saudi Arabia, since March 26 has deadly raids against various Yemeni areas and imposed a naval blockade in Yemen, resulting in shortages of food, fuel and medicines. The conflict has claimed more than 4,300 deaths in five months.