VATICAN, 19-VI: "STOP SAUDI BOMBING ON YEMEN"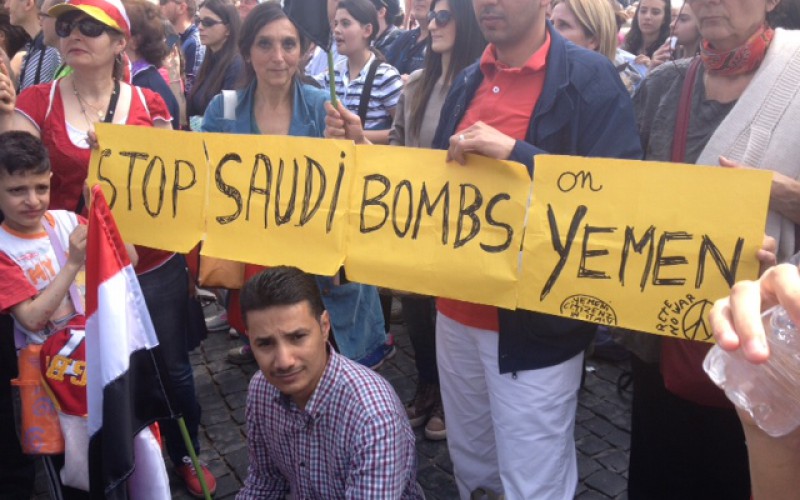 MEMBERS OF THE YEMENI COMMUNITY, ITALIANS AND ARABAS WENT TO THE VATICAN ON APRIL 19TH TO ASK THE POPE AND THE PEOPLE OF THE WORLD TO STOP SAUDI BOMBINGS ON YEMENI PEOPLE.
Adults and children of the small Yemeni community, Italian members of the No War Network, and Arab citizens from Assadaka  association went to the St Peter Square with Yemeni flags to ask the pope and the world to act against the criminal Saudi (and allies) war against yemeni people.
The activists had prepared a big banner "Stop Saudi Bombings of Yemen" to show it to the Pope and the media, but the Italian police stopped them before entering and kept out the banner…
"The war has killed hundreds of people, has been destroying a poor country, violating international and humanitarian law, all for the vested interests of the petro-kingdoms", declared the Yemeni doctor Fadhl to the press. "My relatives are in Sana's and all the time they have to bear the sound and the risk of the bombs; I dont understand why the world does not act to save Yemeni children and people!" declared a 10 years old Yemeni living in Italy.
The No War Network stated: "We denounce the tragedy that the wars fought by Nato countries and/or by Petrokindgoms, directly and indirectly, provoked and provoke in Middle East and Africa. Libya, Syria, and before Iraq, and now Yemen. Destruction of entire regions and a big help to Daesh and Qaeda. Not only: last night dozen migrants died in the Mediterranean – the Pope mentioned it. This mass death is a mass murder because it is one of the results of the Nato/Gulf War on Libya!".
Marinella Correggia for the No War Network
Photos: Alessandro Bianchi, www.l'antidiplomatico.it