U.S. Supreme Court rules for Muslim woman denied job at clothing store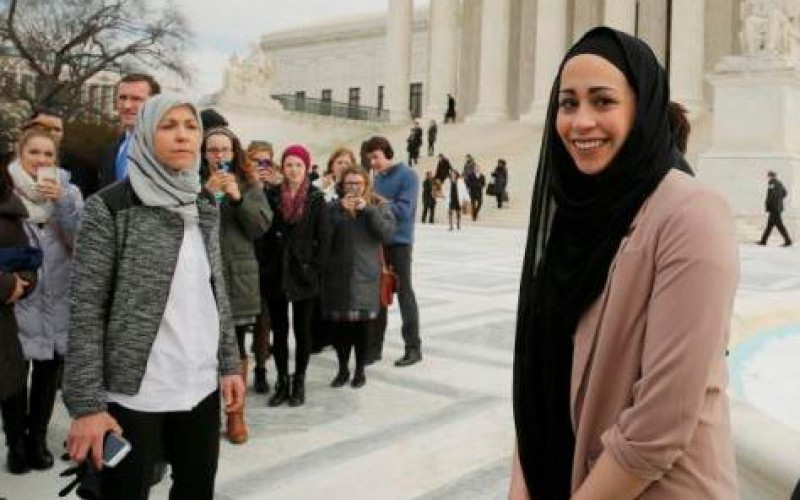 The U.S. Supreme Court on Monday ruled in favor of a Muslim woman who sued after being denied a job at an Abercrombie & Fitch Co clothing store in Oklahoma because she wore a head scarf for religious reasons.
On an 8-1 vote in an important religious rights case, the court handed a victory to the U.S. Equal Employment Opportunity Commission (EEOC), a federal agency that sued the company on behalf of Samantha Elauf. She was denied a sales job in 2008 at an Abercrombie Kids store in Tulsa when she was 17.
The legal question before the court was whether Elauf was required to ask for a religious accommodation in order for the company to be sued under the 1964 Civil Rights Act, which, among other things, bans employment discrimination based on religious beliefs and practices.
Monday's ruling was the second decision by the high court during its current term in favor of a Muslim alleging discrimination. In January, the justices found that an Arkansas policy prohibiting inmates from having beards violated the religious rights of a prisoner who had wanted to grow one in accordance with his Muslim beliefs.
The court has taken an expansive view of religious rights. Last year, it sided with a Christian-owned company that objected on religious grounds to providing health insurance coverage for certain contraceptives.
Abercombie said in a statement that the case will continue, noting that the court had not determined that discrimination took place.
The court, in an opinion by Justice Antonin Scalia, ruled that Elauf needed only to show that her need for an accommodation was a motivating factor in the employer's decision.
Reuters