No relief from India heatwave as death toll reaches 20-year high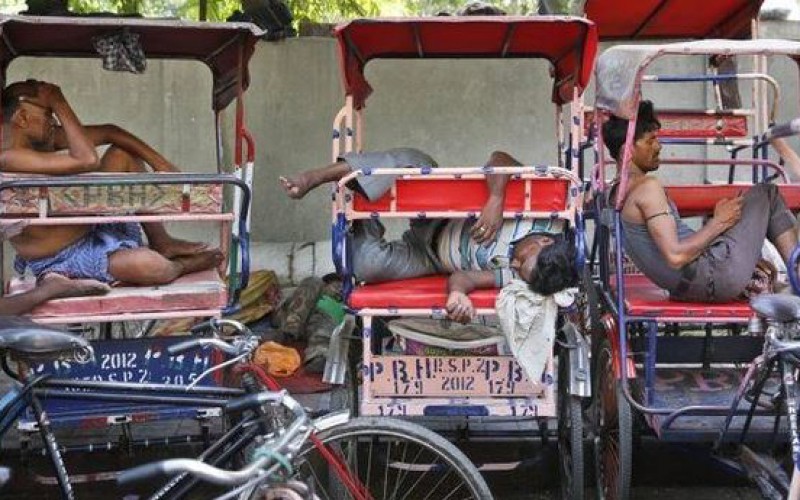 India's blistering heatwave will continue for at least another 48 hours, weather officials have said, raising the possibility that the death toll could reach 2,000.
About 1,800 people are thought to have died in a week of temperatures touching 48 degrees in some places, the highest number of casualties for more than 20 years.
Hospitals across the country have struggled to cope. Officials at the clinic said most of those who sought help were severely dehydrated and that the old, the very young and the poor had been hardest hit.
Hundreds die at the height of summer every year in India, but this year's figures are already the highest since 1995, when official data showed 1,677 people succumbed to the heat.
Southern India has borne the brunt of the sudden spell of hot, dry weather with the states of Telengana and Andhra Pradesh suffering most.
The monsoon, predicted to hit southern India's coastline on 31 May, will bring relief from the high temperatures, but it will not reach the parched north of the country for several weeks.
In Delhi, children tried to cool off in the ornamental pools around the presidential palace in the centre of the city. Adults sought out the air-conditioned metro and shopping malls.
Temperatures have topped 45 degrees in Delhi, the capital, in recent days. The highest ever recorded in the city is 47.2 degrees, in May 1944.
Earlier this week temperatures of nearly 48 were recorded in Allahabad, in the northern state of Uttar Pradesh, and in Telengana, in the south.
The record for India is thought to be 50.6C, recorded in 1956 in the northern town of Alwar.
Local authorities have launched awareness campaigns, telling people to stay indoors, drink fluids and wear cool clothing.
Many of the casualties have been homeless people or day labourers, among the poorest sections of society.
Experts said compiling casualty statistics for heatwaves was extremely difficult owing to the challenges of attributing cause of death and registering fatalities in remote areas.
Climate experts said the number of days when temperatures approached 45 degrees has increased in the past 15 years and that nocturnal temperatures in India's cities have risen significantly as a result of overcrowding.
"The number of heatwave days may go up from about five to between 30 and 40 every year," Arjuna Srinidhi, of the Centre for Science and Environment, told the Hindu newspaper.
Guardian