At least 10 dead as migrant boat capsizes off Sicily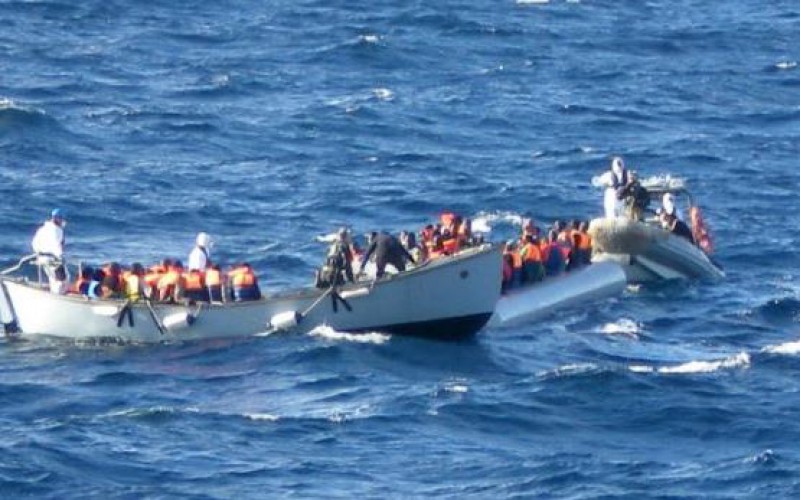 A boat capsized off Sicily when the migrants aboard rushed to meet rescuers, killing at least 10 people, the Italian coastguard said Wednesday.
"The migrants, as they frequently do, all rushed to one side of the boat which then capsised," Italian coast guard spokesman Filippo Marini told TV station SkyTG24, adding many of the passengers did not know how to swim.
Hundreds of people have died in recent months as waves of migrants from North Africa and Middle East conflict zones attempt to reach Europe, prompting criticism of rescue efforts.
The accident happened after a tugboat for Libyan oil platforms alerted authorities to the boat and an Italian coast guard vessel — already transporting 318 migrants who had been rescued earlier — headed to the scene.
Some 121 people were rescued after the boat sank on Tuesday but at least 10 died.
Italy's coastguard said it has carried out seven rescue operations in less than 24 hours, saving 941 migrants in the Strait of Sicily, which separates the Italian island from the North African coast.
Italy says over 170,000 migrants entered its territory in 2014 — many arriving on the Mediterranean …
Those rescued included more than 30 children and about 50 women, including one who was pregnant and taken to hospital.
In January and February, around 7,900 migrants arrived on the Italian coast, an increase of more than 43 percent over the the same period last year, according to figures from Italy's interior ministry.
An increasingly violent and chaotic situation in Libya, a key jumping off point for migrants, has prompted a hike in the number of asylum seekers trying to reach Europe.
The UN refugee agency UNHCR has urged the European Union to do more to save migrant lives after a string of tragedies in the Mediterranean.
The deaths have highlighted the limited means and scope of Triton, an EU-run mission which took over in November from the Italian navy's Mare Nostrum search and rescue operation.
Italy decided to scale back the mission after its EU partners refused to share running costs of around nine million euros a month.
Triton, which comes under the authority of the EU borders agency Frontex, has a monthly budget of 2.9 million euros and its patrols are generally restricted to the territorial waters of EU member states.
UNHCR said at least 3,500 people died out of more than 218,000 migrants who crossed the Mediterranean, making it the most deadly migrant route in the world.
People smuggling, however, remains a lucrative business for the traffickers who pack people onto vessels of dubious quality for the dangerous crossing.
Some of the migrants rescued in the Mediterranean in February told UNHCR they had paid between $500-$1,000 for their crossing in rubber dinghies (…)
AFP